​​​The Low-E glass in our windows and doors features thin layers of anti-reflective metal oxide coatings applied to the surface. This allows homes to stay cool in the summer by rejecting sunlight and warm in the winter by reflecting heat back into the home. It also greatly reduces fading from ultraviolet light so your furniture, drapes and carpet keep their color longer.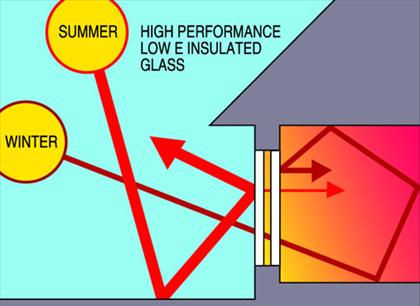 How LoE 366 Glass Works
LoE 366 consists of two panes of insulated glass filled with argon. The inside of the exterior pane is coated with a triple layer of silver, providing a high level of solar control along with high visibility.
Dual Low-E glazing combines Cardinal LoE 366 soft coat on the inside of the exterior pane (surface 2) with Cardinal i89 coating on the inside of the interior pane (surface 4). The Cardinal i89 coating is a durable, low emissivity coating that gives the product improved thermal insulation performance compared to clear insulated glass or standard Low-E insulated glass.