Contemporary design is sweeping the country. Homeowners want to bring in more natural light. Builders and architects want to feature more glass with larger openings.
Now you can enjoy more of the daylight and the outdoors with the new Narrow Stile Swinging Patio Door from Windsor Windows & Doors.
Windsor's Narrow Stile Swinging Patio Door is available from our Pinnacle clad product line. The new, narrower stiles and rails help showcase significantly more visible glass to make a stunning entryway that can be enjoyed both inside and out.
The narrow panel is made up of matching 5-3/16" top and bottom rails and 3-3/8" stiles. Compared to the traditional Pinnacle clad swinging patio door panel measurements of 5-3/16" top rail, 8-9/16" bottom rail and 4-7/8" stiles, you can immediately see the difference. Imagine the setting you can create with that enhanced viewing area!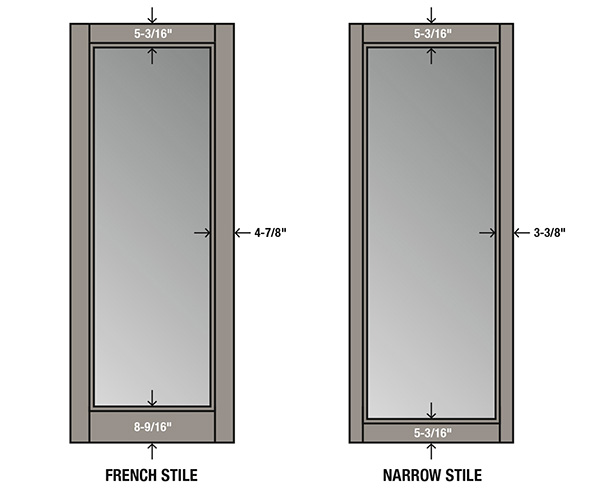 Customize Your Door
The narrow panel option will be available on inswing and outswing Pinnacle clad patio doors up to and including 8-0' tall. There are 5 unique interior finishes available, as well as 51 different exterior clad colors and finishes.
The following hardware options are also available:
Active Panels: Multi-point and no hardware
Secondary Active Panels: Lever activated, twin bolt, no hardware
NOTE: Single-point and double bore options are not available on the narrow panel option.
Additional Benefits
The Pinnacle clad narrow sliding door also features cross-band vapor resistant layers for the interior and exterior. The layers add an additional level of performance to our patio doors:
Helps stabilize movement related to moisture between the core and the face veneer.
Eliminates the veneer layer on the exterior, reducing wood swell related to high moisture environments.
Reduces crook and bow related to moisture movement and changes in environmental moisture levels.
To see a sample of Windsor's narrow door, contact your local Windsor distributor.