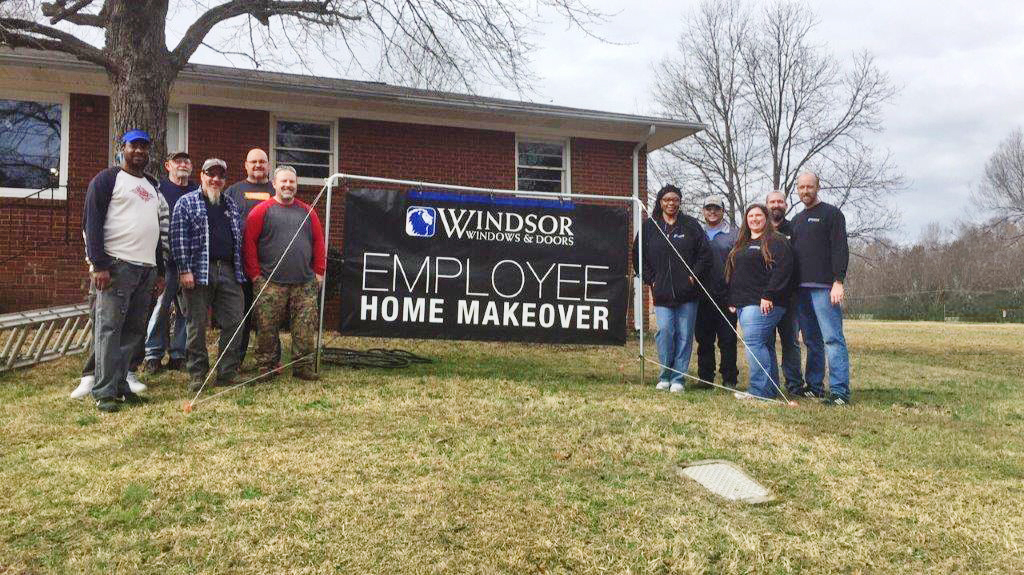 The Windsor team took on another challenge and completed our 5th Employee Home Makeover project in late-January. This is the first makeover conducted by our North Carolina facility and awarded to a North Carolina plant employee.
Judy Staton, has contributed to the construction of Windsor's Legend double-hung windows for 17 years and is the very deserving recipient of this most recent home makeover.
After the economic downturn forced her to leave her previous home of 16 years, Judy acquired her current home from her aunt in 2010. While the 1963 home was a blessing, Judy faced an outdated furnace, a roof in disrepair and single pane windows with inoperable storm windows, as well as an expensive gas bill reaching up to $400 a month in the winter. Matters went from bad to worse when the 30-year-old furnace finally stopped working in the fall of 2016, leaving Judy to rely on space heaters and even the kitchen oven to provide heat for the home.
In December, locally owned B&B HVAC was contracted to replace the old furnace with a high-efficiency gas furnace with programmable thermostat, allowing Judy to heat the small home only when she needs it to be heated. With the new heating system in place, exhaust can be vented out of the side of the home instead of through the original chimney.
With the outdated metal chimney no longer necessary, locally owned Helms Construction was contracted to remove the chimney and replace the roof shingles supplied through local Windsor Windows distributor Locust Lumber. This will keep Judy's heat in the home instead of wasting it out the old chimney stack.
In addition, locally owned Love Plumbing was contracted to replace the hot water heater and repair a galvanized pipe that was leaking water under the home next to her new furnace.
Finally, Windsor Windows teamwork replaced the old single glazed windows with energy efficient Legend Series Double Hung windows. The cellular PVC product will provide Judy with the most energy efficient option for her home as well as match the aesthetic appearance of the original windows.
Judy has been instrumental in the manufacturing of Legend Series Double Hung windows, so it is an added bonus to provide Judy with a product that she has been part of manufacturing for many years.
Judy is going to be much more comfortable in her home now. She has already begun planning additional home improvement projects for her friends and family to take on this year. You can view photos from Judy's home improvement project below.