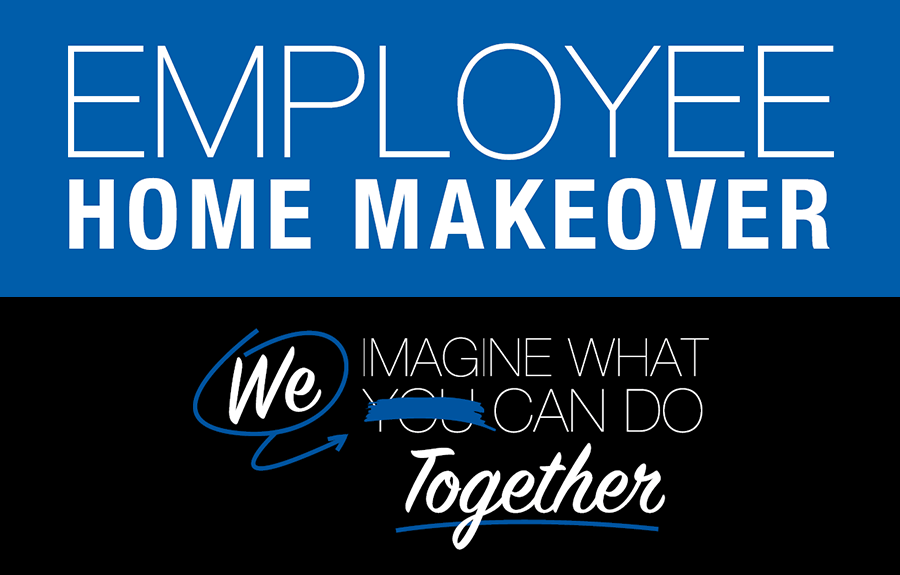 Windsor Windows & Doors recognizes that our success is due in large part to the hard work and dedication of our workers. Through the implementation of the Employee Home Makeover Program, Windsor has been able to give back to its hardworking employees, who help make dream homes come true every day.
The program kicked off in the summer of 2016 and Windsor volunteers have donated their time and talent to complete five home renovations for fellow employees, with plans for many more in the near future. The program was designed to foster both a spirit of goodwill and teamwork. Windsor supplies the materials and employees volunteer to provide the labor. Employees are encouraged to submit individual applications for home improvements they would like assistance with, but may not be able to make on their own due to financial reasons or labor requirements. Recipients of the home improvement projects are chosen by a Windsor selection committee.
From reroofing and replacing windows to painting and landscaping, the volunteers have tackled some tough projects that have dramatically improved the lives of their co-workers. These renovations have made these homes safer and more comfortable while improving energy efficiency and enhancing curb appeal. And these upgrades significantly increase the overall value of the home.
Windsor wanted to repay their workers for the dedication they demonstrate day after day, year after year. Since many of our team members possess valuable skills in the area of home construction, this is a natural way for them to share their talent and expertise. Our people are volunteering their time to help fellow employees in a way that impacts their lives and the lives of their families.
View highlights from the five completed projects below.

Pedro Diaz of Windsor's Aluminum Clad Powder Paint line received replacement windows, 2 replacement window unit air conditioners,as well as removing overgrown bushes and providing new landscaping, exterior paint to enhance the curb appeal and furniture to make the front porch space more enjoyable. Read the full story here.

Volunteers removed several dead trees and an old, unsafe garage from the home of longtime Windsor receptionist, Vicki Burgess. They then constructed a carport to protect her car and house lawn equipment.Read the full story here.

Group Lead forInsulated GlassProduction and 11-year Windsor veteran, Daniel Marquez-Ramirez's home received roofing and siding repair, window and door replacement, exterior paint and landscaping updates to his home . Read the full story here.

Nong Snyder, a 16-year Windsor employee and a Machine Operator on the Glass Line received new siding on one side of her home, new exterior paint to the siding and trim, as well as new landscaping and removal of a dead tree. Read the full story here.

The 1963 home of 17-year Windsor Employee Judy Stanton received several updates, including removal of the old, drafty chimney, new gas furnace with a programmable thermostat, new shingles and window replacement. Read the full story here.

Kevin Kessler, a 24-year Windsor veteran, received several updates to his basement including repainting and sealing the walls and updating the windows with Next Dimension Pro Awnings. Read the full story here.