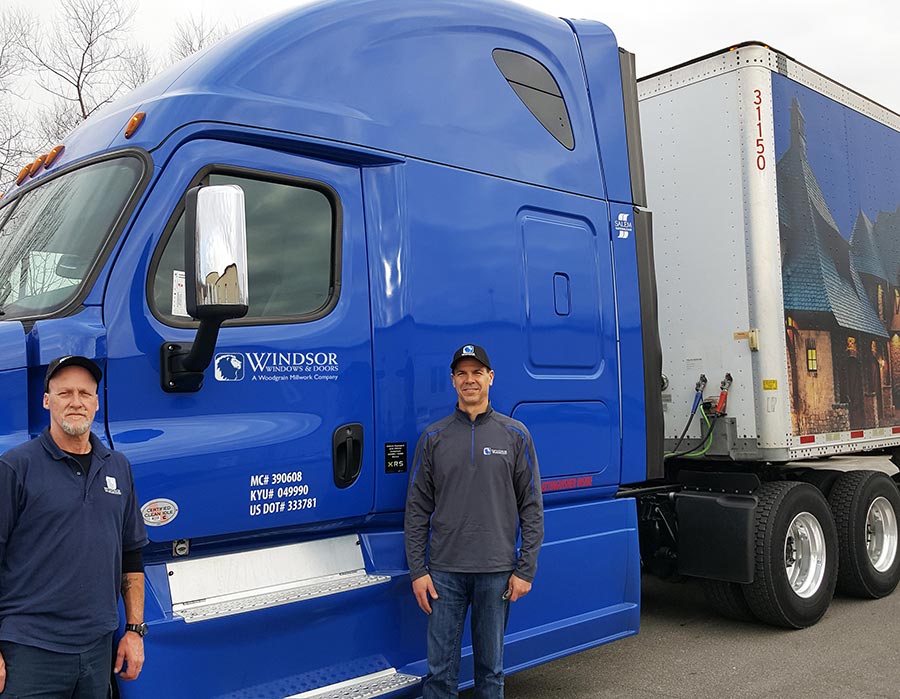 When Windsor Windows delivery driver Tim Reed arrived at work on Wednesday, January 9th, he was surprised to see a familiar face waiting to join him on this delivery route: Windsor Windows & Doors President Mark Rieser. Mark was visiting the Monroe, North Carolina, production facility and wanted to learn more about the day-to-day life of company drivers by immersing himself in the experience.
Tim has been a professional driver for 25 years, working for Windsor for the past two years as the company's only weekend driver. His routes take him to Des Moines, Tennessee and North Carolina. The weekend schedule works well for Tim because most of his family also works weekends — his wife manages a local chain restaurant, where his daughter and one of his sons also work as the assistant manager and a part-time cook, respectively. His oldest son works for a local grocery store as the produce manager.
Tim enjoyed having Mark shadow him for the day, both for the company and for the help. One stop required the pair to unload 67 windows, which would have been Tim's sole responsibility had Mark not been along for the ride. Having unloaded a lot of trucks early in his career, Mark said he felt right at home helping with the delivery.
By the end of the day, both men had gained new perspectives on Windsor. "It's nice that the president of the company cares enough to take an interest in the day-to-day operations," Tim said. The admiration was mutual; Mark was impressed with Tim's customer service and work ethic. "Tim is a great Windsor ambassador. He embodies everything we want our drivers to be."
Watch for more features in our Windows of Opportunity series, where President Mark Rieser job shadows Windsor employees to get a floor-to-ceiling view of how Windsor works.