Not all windows are created equal—and your selection can make or break the appearance of your home. To ensure the best fit, both visually and practically, you'll want to carefully consider every detail when selecting your windows and patio doors. Here are a few factors to think about when choosing windows for your next project.
ARCHITECTURAL STYLE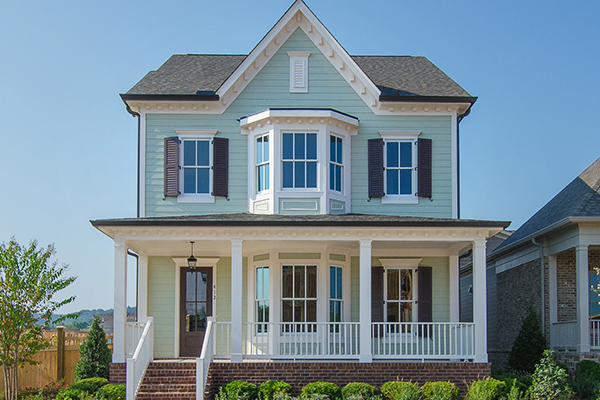 Window functionality has evolved over centuries as building practices have become more sophisticated. One of the first things to consider when choosing your windows is the architectural style of your home.Home styles that represent a particular era should use the style of windows that are historically accurate for that period in time.
European Mediterranean and Spanish style homes of the 1400s-1700s utilized a very simple casement-style window with a hinged sash. They were generally smaller in size because wood and glass were expensive and hard to get. These windows were hinged on one side and fastened with a push-out latch on the other.
Colonial, Cottage, Salt Box, Four Square and Craftsman-style homes were built between the late 1700s to the mid 1900s. During this time, double-hung windows were developed to allow better airflow. Cooler air would flow into the home though the raised bottom sash, and since warm air rises, it would escape from the lowered top sash, creating a natural form of air conditioning.
Casement and glide-by windows became popular in the second half of the 20thcentury as home styles became more streamlined. With the invention of air conditioning and heating, the functionality of the window has changed.Windows and patio doors are now more about appearance and less about functionality.Construction methods have evolved to make building more efficient or make better use of materials and land. As a result, streamlined architectural styles have developed including Prairie (made popular by Frank Lloyd Wright), midcentury modern, California Ranch, the efficient split-level, and eventually the simplistic contemporary architecture that is so popular today.Windows have grown larger to highlight beautiful views and bring in natural daylight.
GRILLE OPTIONS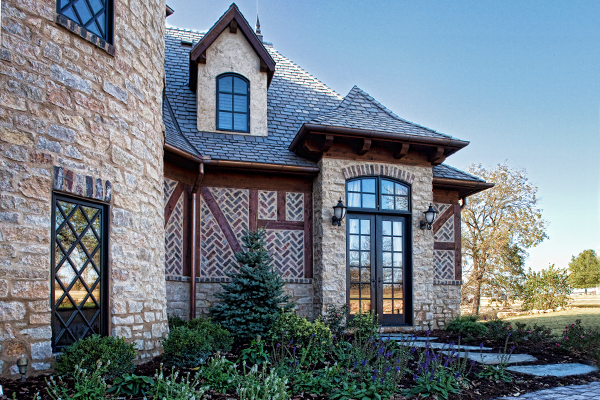 Sometimes the beauty is in the details. The decorative wood bars that created patterns in the glass were historically called mullions. Originally, they were used to hold together smaller, individual pieces of glass. We refer to this traditional method of assembling smaller panes of glass into one larger window as "true divided lites." You can simulate this appearance with "simulated divided lites," which is one large pane of glass with wooden bars attached to the exterior and interior surface to replicate the handcrafted appearance. These decorative bars are also available as perimeter or stick grilles, which snap onto the interior side of the window, and also inner grilles that are located between the two panes of glass. these last three options were designed for easy cleaning.
Traditionally, these patterned bars were for functionality. But today, these decorative bars are used to add visual interest and character to a home. They are purely decorative—but there are specific patterns that are associated with certain periods of architecture. Tudors and Spanish-style homes often used a diamond or Gothic grill pattern. Traditional American architectural such as Colonial and Cottage favored a rectangular pattern spaced equally throughout the sash.Plaza patterns with grilles only on the top portion of the window were popular in the Craftsman era. And Prairie-style grilles are used around the perimeter of the glass to maintain an unobstructed view. Custom patterns provide unique creativity for those seeking to express their individuality. And with today's sleek building style, many prefer no grilles at all.
MATERIAL AND FINISHES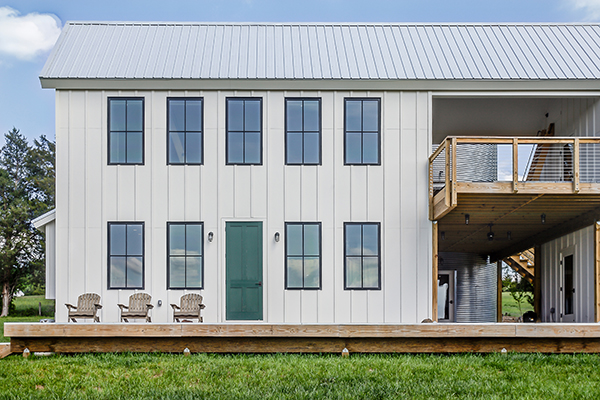 Your home reflects a particular historical period, and that period can guide you in selecting the materialand finishes of your windows and patio doors.
Wood. Traditionally, windows were built from wood; therefore, wood windows enhance the traditional look of a home. Windsor offers primed wood windows, but they are seldom ordered due to the popularity of aluminum clad exteriors on wood windows that reduce maintenance.
Wood Aluminum clad.Aluminum cladded exteriors on wood windows have become the norm in the last few decades. It protects the wood from exterior weathering and eliminated the need to paint the exterior and Windsor offers more than 43 different powder-coated painted colors as well as custom matching. Some powder-coat finishes also provide a texture or matte finish that adds another interesting element to the appearance. In addition, there are eight anodized finishes for a sleek metallic finish. The wide variety of exterior colors, textures and finishes provides added visual interest to the exterior of your home. Windsor's wood windows may also be ordered with the interior of the product primed (ready for painting) or prefinished in painted white or painted black.
Cellular PVC.CPVC is particularly useful in hot, humid climates due to a combination of aesthetics and durability. It gives the appearance of traditional wood with the durability of vinyl, which protects against the effects of humidity and insects better than wood.
Vinyl.Vinyl windows gained popularity in the late 1900s and have less dimension than a wood window. They require low maintenance but are still very energy efficient, making them ideal for streamlined architectural styles.
Painted vinyl.Paint that adheres to vinyl is a recent development in the industry that hasturned this once-low-cost alternative window into an attractive and affordable product that adds impact to your exterior.Windsor now offers vinyl windows in seven different colors. In addition, the interior of the windows may be painted during the manufacturing process. Many builders are opting for this time-saving option.
GLAZING OPTIONS AND ENERGY EFFICIENCY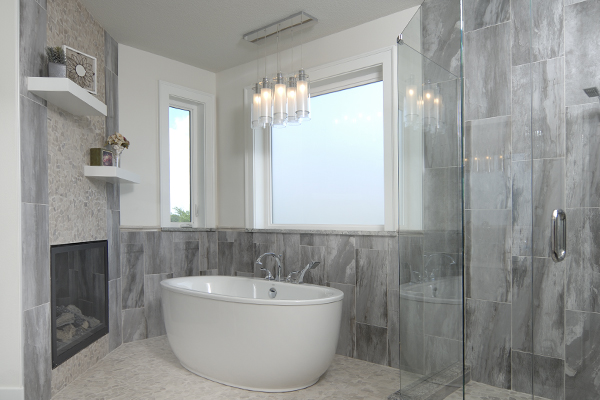 After you've selected the style and material of your windows, don't forget the glass itself.Windsor's Glazing Systemis made up of a state-of-the-art, highly-automated process for building energy efficient glazing options referred to as insulated glass. Insulated glass (IG) consists of two sheets of glass sandwiched together and sealed around the perimeter with a non-conductive spacer material. To make this IG unit even more energy efficient, the air chamber may be filled with certain gases, such as argon. The panes of glass have various coatings available that provide reflective qualities to keep your home cool in the summer and warm in the winter. This combination of two layers of glass, a gas-filled chamber, an insulating spacer, and tinted coatings, all work together to maximize the efficiency of your windows and patio doors.
Your IG choices include clear glass, gray and bronze tints and textured glass. Textured or frosted glass creates an element of privacy while still providing a large amount of daylight. Tinted glass reflects the sun's rays, which keeps the interior space cooler and protects furniture and flooring from fading.
HARDWARE STYLES AND FINISHES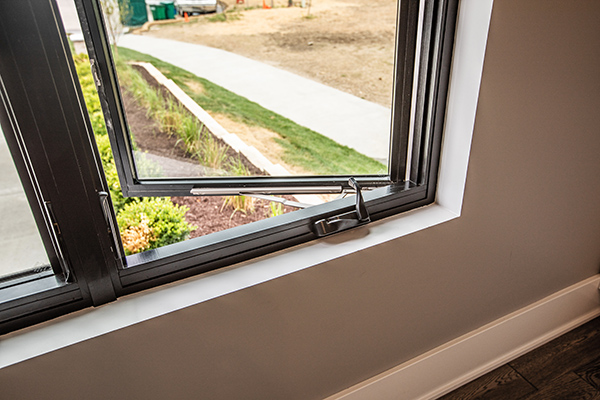 Just like kitchen furnishings and furniture styles, the hardware you pair with windowsanddoors provides a personal statement that can truly set a home apart.
If clean lines and minimal color is your thing, black hardware will make a bold statement. It lends itself to a modern environment but also works for a transitional minimalist look. The warm tones of brass have made a recent comeback because it is glamorous and inviting. Brass finishes can fit into a traditional space but may also be used in a contemporary setting if the shapes are modern. Many people like the rustic appeal of an oil-rubbed bronze or faux bronze finish. It will add a primitive look to your home. Brushed nickel provides a neutral finish that doesn't conflict with other design elements. Or choose the classic finish of chrome to add sparkle to your retro decor.
Trends change; preferences vary. That's why Windsor Windows & Doors offers several distinctive hardware finishes that allow designers and homeowners to create mood and match décor. Choose from upscale or understated, traditional or timeless, reflective or reserved.
SAFETY AND SECURITY FEATURES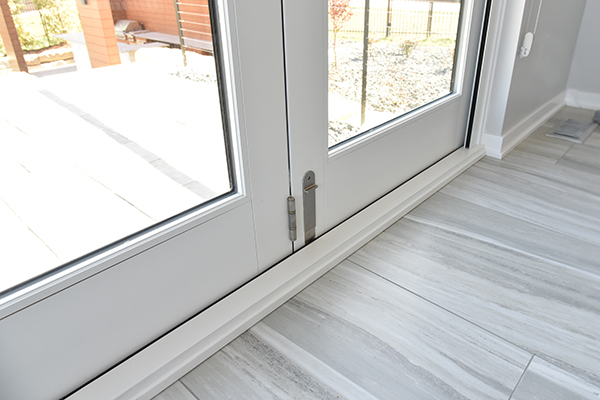 Of course, we can't talk about windows and patio doors without considering security features and hardware. Our casement windows have a single-lever lock that pulls the sash in a multiple points for a tight seal. Our double-hung product features a recessed lock and keeper for a sleek appearance while securing the sash in place. Our swinging patio doors feature a multi-point locking mechanism that secures the door panel at multiple points, depending on the height of the door.
For families with small children, the best way to prevent window falls is to limit how wide the windows are able to open. That's why Windsor Windows offers mechanisms called Window Opening Control Devices, or WOCDs.We refer to these as Sash Limiters. These mechanisms limit how far our windows can open while remaining unobtrusive and not detracting from the look of your window. They are also easy for an adult to disengage if an emergency exit is needed. Sash Limiters, which are available in a variety of finishes to match your windows, can be included with new construction or retrofitted to Windsor windows that have already been installed.
Windsor Windows & Doors has a wide variety of windows and patio doors to meet your needs, with features to enhance every home and options to fit every family.Your builder or installer can help you understand which may best suit your particular project.Whether you're renovating a historic house, constructing a new contemporary home or planning any project in between, we have the products you need.If you'd like more help choosing the right windows and door for your project, get in touch with a Windsor distributor in your area.