Witches, goblins and ghosts may make October a scary month for many, but nothing is more frightening to parents than safety risks to their children. That's why October is the perfect time for Window Covering Safety Month. If you have small children—and even if you don't—it's a good time to assess the window coverings in your house and address any potential risks. Here are four safety issues to watch for and address during your home walk-through.
Dangling cords. Eliminating loose cords hanging from blinds or drapery should be your top priority if you have little ones running or crawling around the house. According to the U.S. Consumer Product Safety Commission, corded window coverings are one of the top five hidden hazards in American homes. Tie the cords up high, purchase safety devices such as cord cleats, or cut the cords off completely.

Bottom chains on vertical blinds. Bottom cords pose the same dangers to children as pull cords do. If your vertical blinds have a bottom chain, look into replacing them with a kid-safe alternative.

Furniture placement. You probably already know that cribs and toddler beds should be placed well away from cords, but look around your house for any furniture your kids could also easily climb to gain access.

Security of window treatments. Make sure curtain rods and and tie-backs are securely attached to the wall. Kids love to yank on curtains—and if they're not secure, one good pull could bring the whole thing toppling down. It's also a good idea to discuss window safety with children when they are old enough, emphasizing that cords and curtains are not to be played with.

Consider going cordless. Many experts believe cordless styles are the best option for window coverings in homes with young children—not just in nurseries or playrooms, but in any room where children spend time.
Another way to ensure that window coverings are as safe as possible: Look for the "Best for Kids" safety label on future purchases. This label identifies window coverings that either have no cords, no operating cords and inner cords that are inaccessible or cannot create a hazardous loop.
For safety in family living areas, Windsor Windows & Doors has your safety needs covered with our Next Dimension Sliding Patio Door with blinds between the glass. Not only do blinds between the glass eliminate external cords to keep kids and pets safe, they also reduce cleaning time while offering more durability and easy control of light and privacy.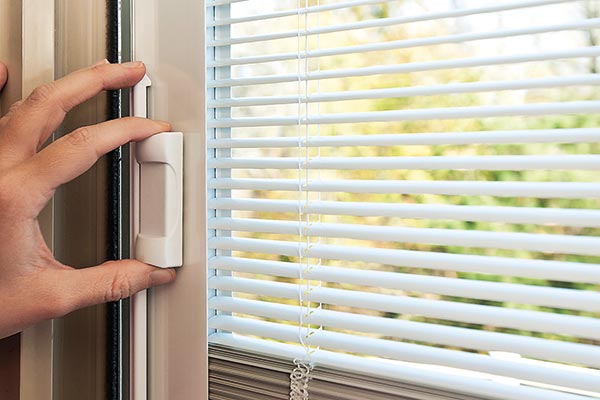 For more information about safety options for your Windsor windows and doors, contact a dealer.