Windsor is proud to help builders and architects bring their visions to life. In our "People Behind the Projects" video series, we sit down with people from across the country to hear their stories about how they make incredible homes.
In this edition, we talk toRod Cullum, award-winning builder from Cullum Homes in Arizona.

How did Cullum Homes get its start?
Well, we started in 1985, my wife and I, off of our dining room table. I had been in real estate sales and had experience building bank branches and installing ATMs. I was working for other builders and was frustrated by the fact that they didn't always do what they said they would do. I said, "Well, time to start myself. To make sure that what we promise is executed." Now, 31 years later, we have our daughter, a licensed architect — who graduated from Arizona State with an architectural degree —and our son, a graduate of Arizona State Construction School, who is involved with the companyrunning the day-to-day construction. We're in the second generation of Cullum Homes.
 
What sets Cullum Homes apart from other builders?
We are a family business that's been building in the Paradise Valley/North Scottsdale market for 31 years. That in itself is an accomplishment that most builders can't claim. Probably the real thing that sets us apart is the process that we go about building with. We are a home builder that does the architectural in-house. We do all our own construction drawings in-house. Just the process we use to get the customer through a very trying experience really sets us apart. This is evidenced by the fact that multiple people have asked us to build 3 homes for themin the last 31 years.
 
What are your clients typically looking for in a home?
I think anyone that goes through the process of multiple years of design and build are really looking for something they haven't been able to find on the market. It would be a whole lot easier just to buy something ready. I think people who are going to do the custom home are really looking for some unique characteristics in a house. In a project like Mountain Shadows, they are looking for the lifestyle that we offer in a particular neighborhood. So it's a mix of people changing lifestyles—maybe their family is now empty nesters and they want a different kind of product.
The reason I think people buy a Cullum Home is they're really looking for the different quality things we do, the different techniques we use that set us apart: in indoor air quality, in the windows we use, in the total package. The home is a total package. Not often in the market do the builders deliver that total package. I think that's why they take the effort to go through the custom process.
 
What trends are you seeing in homebuilding?
In the 30 years I've been doing this, we went through the Adobe phase here in Arizona, we went through the phase where everything was a form of Mediterranean, then we went into Tuscan, now we're going into Contemporary. It goes through a cycle, but we like to try to do a very timeless design. You're not going to look at it and say, "Oh, that was built in the '80s."
The homes we're in today are a little more transitional in design, not a hard contemporary and definitely not Tuscan. I think the trend that we're seeing is a smaller product, or at least people thinking about going smaller. They're moving their square footage around. They're really looking for clean lines, timeless lines, less trendy.
 
What was the concept behind your award-winning Village at Mountain Shadows project?
The Village at Mountain Shadows was a unique opportunity. It was the old Marriott Mountain Shadows, which has been shut down for maybe 10, 12 years now. We had the opportunity to be a part of the redevelopment team. We approached this looking at the new lifestyle people wanted in Paradise Valley. Paradise Valley is an estate home market of about 6,000 lots. Most of those are acre homes or larger.
There was a niche to do smaller lots, but not that small: 3,800 square feet up to a home that's over 9,000 square feet. People are wanting smaller, more rightsized homes. We saw that opportunity with Mountain Shadows. The mountain views here are spectacular. It's a gated community, which is very appealing to the buyer concerned about security. It allowed us a price point to deliver a quality, small home with high quality amenities. That's really what we focused on when we started the Mountain Shadows project.
We also realized our client was going to want more than a 3-car garage. These people have enjoyed estate-style homes for many years and now we're having them downsize. One of the things that set us apart is just thinking out of the box. We made a garage 12 feet in the ground in a basement with a car lift that allows you to bring your toys down with you. Not necessarily your daily drivers but your toys - a nice Ferrari or motorcycle or go-kart. It allows people to enjoy their lifestyle without compromise. As they're sitting at the bar in the theater and the gathering area, they can enjoy their toys. That's just architectural design and really understanding what our customer wants.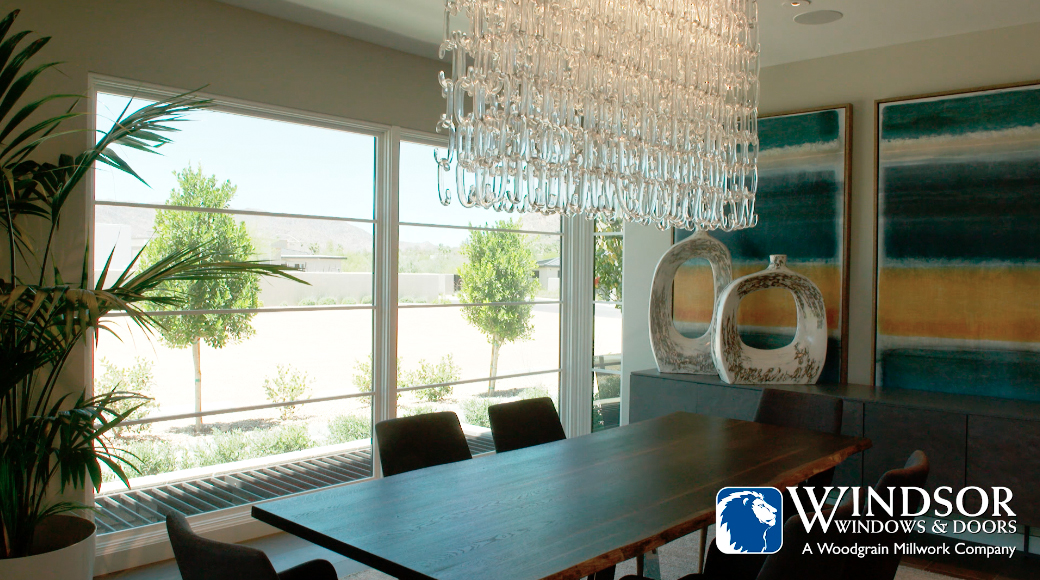 What did it mean to win the ICF Award for the Village at Mountain Shadows?
It was a special award. This particular project is one of the largest ICFs, which is insulated concrete forms. It showed our commitment to being a sustainable, green builder. The wall systems, the AC systems, the window systems, all the finishes that we're doing, I think are award winning. Matter of fact, we just won the Home Builders [Association of Central Arizona] Best Custom Home of the year award a month ago or so. It's a continuation of the commitment we have to using the best practices. My son got to go up and get the award, so it was a pretty special time for us.
 
Do you have a personal mantra or motto that helps guide the way you work?
Our company probably gets tired of me saying this, but my personal mantra is "Win the war, not the battle." Our industry sometimes gets very confrontational. To us, it's about having the right process. It's about the why, not the who. When something's broken, you need to fix the why. Why did it happen, not 'who did it?'
I guess that's pretty much it: win the war, not the battle. From the beginning of a project to the end of project, there's a lot of opportunities that you need to deal with on the high road, on the long-term. Look in the mirror when you're done. Did you do the right thing? Our company is really about the long-term process of building the best company, the best homes, the best long-term relationships with our clients and our trades.
We're the builder, but we're vertically integrated in a lot of areas, framing and plumbing and different things. It takes a strong team and keeping that team together, which comes back to "Win the war."
 
What advice would you give to builders today?
When it comes to windows, I would absolutely understand and respect building science, understand and respect that in all parts of the world, water runs downhill. Make sure you install your windows for all the recommended installation techniques. Use the correct window wrap. Make sure the windows are secured. Remember that caulk is a temporary product. Over our life, it will fail. One of the things that I would advise builders that I see that commonly make mistakes to our standards is not correctly installing the window with full respect for gravity.
 
What are your homeowners looking for in a window or door?
The view! I would say that they want the architectural integrity and consistency of the product. We see people that want a very clear, clean, window, absolutely no muntins or mullions. They also want to see more glass and less of the wood. Those are things we know Windsor has responded to with their Contemporary line. But then you get the customer that wants to make the window an architectural feature.
The diversity of product is important to us and what our customers are wanting. We want to be able to stay with that consistent team — one supplier, one vendor — and we get that through the full array of Windsor products.
Probably the thing that they deal with most, day in and day out, is the door — something they physically touch and use, versus the window. We've had really good success with the hardware and the operation of the door systems with Windsor. I'm not sure the customer really drives the window decision that much — it's really the builder or architect that drives that — but they're the first let you know if it doesn't work perfectly. It's that balance of architectural aesthetics and, from a builder side, the long-term functioning and functionality of the operation. We find that with all the Windsor products it meets both of those criteria.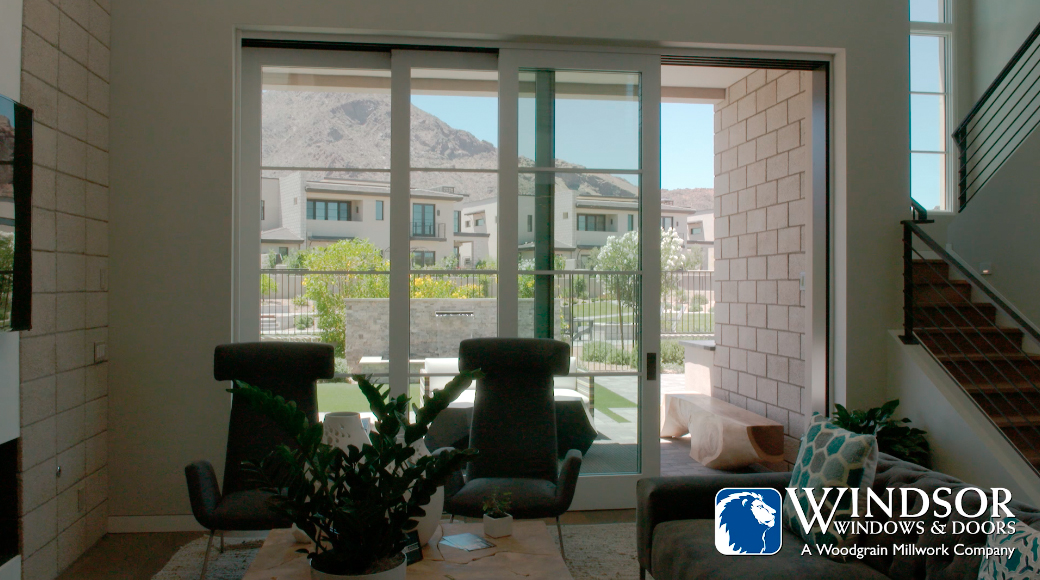 Who do you work with when making a door or window decision?
I think the architectural side is looking for the correct balance of the window, the ability and the flexibility on sizes and styling. The customer follows that lead. We, of course, have to work with that.
For a dealer, we're very fortunate the MG Group here locally is a dealer that reps the Windsor line and they also do the installation. I want to buy from someone who installs. That's just an absolute for us as a company. If we buy it from you, you install it. It goes back to the understanding we don't let our framers install our windows, we don't let just anyone who says, "Oh, I'm a window installer" install our window. We have pretty rigid standards for MG that they follow and do throughout the market for us and other builders. Those are kind of the lifeline of the window: the architectural driven product that we've got to get installed by a competent person and then as a builder we want to work with someone that's going to warranty and stand behind their product. That's who we deal with to make the window decision.
What Windsor products do you use?
I think we probably use most of the Windsor offerings. We're using the multi-slide doors, automated multi-slide doors, 3-point locking single and double doors, operating and fixed windows, archtop to square top. I don't think we've done any odd rectangular windows or trapezoids or anything yet, but I know Windsor can do it. We've experienced the full product line.
Now the newest offering, which is the Contemporary line in the Pinnacle line, offers a great value to get the new sightlines that what we talked about earlier, seeing less of the window and more of the glass. Our customers are selecting that particular look probably 80% of the time now. We're looking at all the offerings and when you say what products, I think it comes down to more than just the product. It's the local dealer as well as the ongoing factory support to that dealer to take care of any challenges we may have.
I'd say one thing that really sets Windsor apart from other window companies is they understand that you need to have the package delivered complete. There have been window companies we've done work with over the years, they think it's a great thing they get all but two windows to you, and then two weeks later, or a month later, you get that one special window. Well, Windsor's really good about delivering the package complete to our dealer so that thedealer can deliver it complete to us. Frankly, I can't take the next step until all the holes are filled.
 
What would you say to someone considering Windsor Windows & Doors?
Single source. Full array of product lines. High integrity company. I would just say that we feel Windsor matches our type of business, if we go back to "Win the war, not the battle."
There's a lot of gray areas in our industry. There's a lot of finger-pointing. I've never experienced that at Windsor. There's joint responsibility.
Windsor has been a company that has taken the same strategy we take to our customer. It's been a cooperative, win-win environment. That's the message that has been delivered to me from Windsor and what really what makes them one of the leading window people for us. We just know who and what we're dealing with. It's consistency.
 
For more information on the products used in the Village at Mountain Shadows project, visit our Contemporary product line.